That line about time you enjoy wasting is not time wasted is running through my head.
In the two weeks that I have a break from teaching my classes and spend with my mom, I decided that I would do no work. At all.
Well, yesterday I tried to break that resolution for my vacation, but facebooking, etsy browsing, and pinterest scoping made very quick work of me accomplishing anything productive.
Well, not quite. I did do yoga.
I hand carried my yoga mat onto the plane, thus creating a true 3 carryons that I forced into 2 bags and bore the wrath of the boarding gate keeper and one curmudgeon who didn't even use the overhead bin but felt it was appropriate to lecture me. Because of the intentional act to bring my yoga mat I decided to follow through on that plan. Which is good, because I seriously feel a muffin top breeding in my Lululemon pants, which are supposed to be stretchy, not overly emphasize that I overly indulged! Hey, I get to enjoy my mom's holiday baking about every other year, so I'm stockpiling calories like squirrels do nuts and eating these sweets like I have been in a famine.
But, oh, how sweet it is to be lazy!
In fact, today, on the day before my b'day (i.e. the last day of 33), I did noTHING! Do you know how long it has been since I did nothing? Do you know how often I do nothing? Like, never. Well, okay, I did shower, at about 2:00, and I made myself coffee. But that's about it. And it was such a glorious enjoyment of wasting time.
And, I started to read for fun. Dudettes!! Do you understand my joy???! 🙂
I didn't read anything related to my dissertation topic. I didn't do any research related to my presentation occurring in March. I hopped into my work email (with the purpose of keeping it cleaned out and deleting unessential messages) but I quickly hopped off when I found a message from my director chastising me for checking my email and doing a teeny bit of work on my vacation.
Before I packed up in Phoenix to fly out to visit the other side of Oz, I stopped at Bard's Books to grab some holiday reading. I haven't read Pride in Prejudice in years. That would be a sweet old memory to revisit. And, today, I got to the part where Mr. Darcy realizes he's in love with Elizabeth Bennet. Too bad he had already alienated her by the time he found himself struck in his brow from Cupid's love arrow.
Mr. Darcy had at first scarcely allowed her to be pretty; he had looked at her without admiration at the ball; and when they next met, he looked at her only to criticise.  But no sooner had he made it clear to himself and his friends that she hardly had a good feature in her face, than he began to find it was rendered uncommonly intelligent by the beautiful expression of her dark eyes.  To this discovery succeeded some others equally mortifying.  Though he had detected with a critical eye more than one failure of perfect symmetry in her form, he was forced to acknowledge her figure to be light and pleasing; and in spite of his asserting that her manners were not those of the fashionable world, he was caught by their easy playfulness.  Of this she was perfectly unaware; to her he was only the man who made himself agreeable nowhere, and who had not thought her handsome enough to dance with.
Fortunately for him, he was able to present the most awkward and backhanded proposal I can remember in literature. Okay, not exactly fortunately at THAT TIME, but he wore her down, and he got his girl (meaning Lizzie got her Mr. Darcy) in a very sweet ending. I am not there, yet, but I'll share with you the spoils early on:
 In vain have I struggled. It will not do. My feelings will not be repressed. You must allow me to tell you how ardently I admire and love you.

Oh my gosh, Mr. Darcy!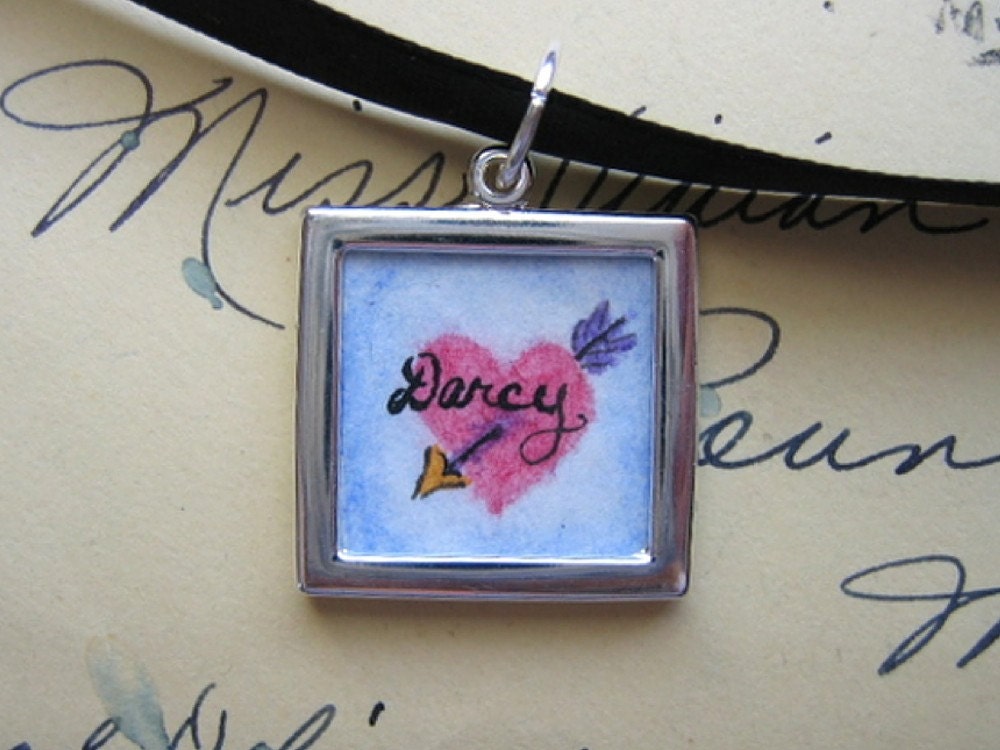 Image retrieved from http://www.etsy.com/listing/66929161/mr-darcy-heart-in-love-double-sided
This adorable handmade, watercolor charm was found on Alice Flynn's super adorable Etsy site. How precious would that be on a bracelet?
What about you? What is the most indulgent way you find time you enjoy wasting? Comment below and share!